When Lee from YESSS Electrical recently asked Hog Roast Normanton to cater a St George's Day event, it was for one of our fantastic centrepiece hog roasts for around 100 people, as well as extra sausages to be barbecued too. Once cooked to perfection, the meat and crackling from the hog roast would be crammed into soft bread rolls and topped with our homemade duo of apple sauce and sage and onion stuffing, thus making our famous pigs in buns (which is what we call scrumptious hog roast rolls).
YESSS Electrical is a nationwide electrical wholesaler that stocks all kinds of materials, from cables to lamps and work-wear to heating controls. The Normanton branch is located on Riding Street, and that's where Hog Roast Normanton went on this dry but overcast Monday, to provide plenty of food for the day when we remember St George, England's patron saint. We set up our gazebo and equipment at the front of the building and once we'd prepared the pig by scoring it and adding water and salt, we turned on the hog roast machine and it was soon sizzling away in its own juices, which it would do for several hours until crispy and golden on the outside and soft and juicy inside.
As the hog roasted, YESSS Electrical was busy setting up their event, and there was even a mechanical rodeo bull for customers to try out for a laugh. Thankfully the landing would be a soft one, though, as there was padded flooring. It's always funny to watch people try and stay seated and we had a great view from our serving area.
Nearer to the time of service, our team at Hog Roast Normanton got busy cooking the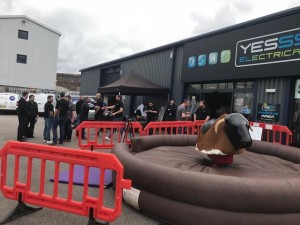 sausages. While roasting a hog takes a few hours, as it's a slow and careful process, barbecuing the sausages using one of our machines doesn't take long at all. You can use a hog roast machine to cook all kinds of food as they're so versatile and act like a conventional oven. For this event, however, we had plenty of pigs in buns and sausages to serve to lots of hungry people.