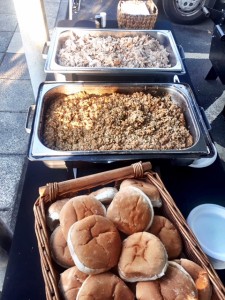 Hog Roast Altrincham catered recently for St Michaels CE Primary School in Urmston near Manchester serving to a large group of 150 guests at an evening bash put on by the school for its pupils, staff and parents.  Alison from the school contacted us and knew that we always deliver consistently delicious food and exceptional service; after discussing our menus with her, she decided that our hog in a roll option with veggies skewers would be ideal and a booking was made!
Here at Hog Roast Altrincham, we pride ourselves very much on the value and high quality of what we offer and we have a very wide range of menus to suit every clients' expectations and every event.  Catering for this type of event is something that Hog Roast Altrincham excels at alongside catering for other private parties, weddings and corporate events and a selection of menus ranging from our hog in a roll through to more formal, china plated service is available that will ensure that guests will always go away fulfilled and satisfied that the food that they have eaten has been high quality, delicious and with a professional service.  We always build in flexibility to the menus to ensure that all tastes and requirements are catered for and we can customise the menu accordingly; there are many good caterers for this type of event but one of the things that makes Hog Roast Altrincham great is not only the professional service and the very high-quality food, but also the flexibility and adaptability that we have to be able to tailor our menus for the clients' requirements whether this be vegetarian, vegan, Halal, gluten-free or virtually any other specific taste or dietary option that is required.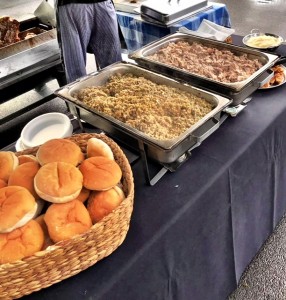 We started serving between 6pm and 8pm and as the guests had already got a whiff of the delicious aromas of the food that we were preparing, they were certainly ready for their food!  Needless to say, the diners were excited and delighted at the food we had to offer with very complimentary feedback on the quality of the food and professional service that Hog Roast Altrincham delivered and with the cleanest plates we have seen at the end!