At Hog Roast Little Lever, one of the most important things we offer our clients is the option of creating their own unique buffets by piecing together whichever dishes from across our diverse range of menus that they take a liking to; and after kicking off 2020 with the launch of the delicious (even if we do say so ourselves!) loaded fries, we have been inundated with requests from clients wanting us to serve our newest addition as a feast of its own. The excitement which has surrounded this new release is one we could never have anticipated, and just last weekend our team were asked to cover the catering for a business open day in the local area where the owner wanted us to serve the loaded fries to over 150 people!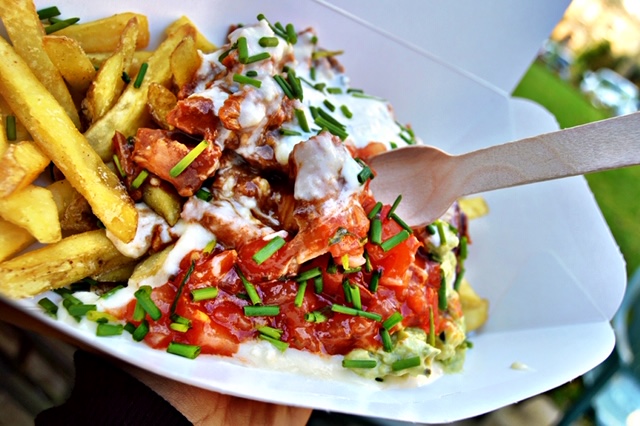 Hoping to please everyone with the drool-worthy feast of homemade golden french fries smothered in irresistible toppings, Hog Roast Little Lever decided to kick things up a notch by presenting a variety of different possibilities to the guests which included a spicy beef option or a zesty pork alternative. The client was very pleased that our team had thought of everything – even the vegetarians and vegans who were to be offered fries with a selection of inclusive condiments and freshly made coleslaws instead of the meat and cheeses.
The day of the event saw Hog Roast Little Lever travel to the newly-opened store where the owner had designated a space in the car park for our team to prepare the food. After setting up the catering gazebo and cooking equipment, the crew got straight to work on frying the chips and as they sizzled away, they turned their attention to the finger-licking toppings.
Passers-by were instantly intrigued by the salivating scents and as they approached, their eyes lit up at the sight of the hearty food. With an endless list of flavour combinations on offer, the guests didn't know where to begin but the 24-hour beef brisket fries smothered with layers of melted cheese, spicy coleslaw and jalapenos quickly became a popular choice among the heat-obsessed.
The client has since been in touch to thank Hog Roast Little Lever for delivering an outstanding meal and ensuring that their first day of trading was a good one!