Most people will agree that no matter how long you've been with your significant other, the act of proposing is still a nerve-wracking and incredibly daunting experience – mainly because of all the planning that goes into pulling off the perfect proposal. From choosing the right location at exactly the right time to (hopefully) catching it all on camera to look back on in years to come, the checklist can seem endless. But Hog Roast Oswaldtwistle can, in fact, make things easier for you!
We're proud to have helped out with a fair few proposals in our time, the most recent of which occurred last weekend. Lewis, who had been with his girlfriend, Serena, for five years, had been thinking of popping the question for some time but was unsure of how to go about it – at least, that was until he came up with the best idea of all.
Knowing how close Serena is to her family, and he to his own, Lewis decided that for them, the best engagement that the pair could have would be them surrounded by the people they love most in the world. And so, with that in mind, he decided to bring everyone together, under the guise of a post-lockdown reunion.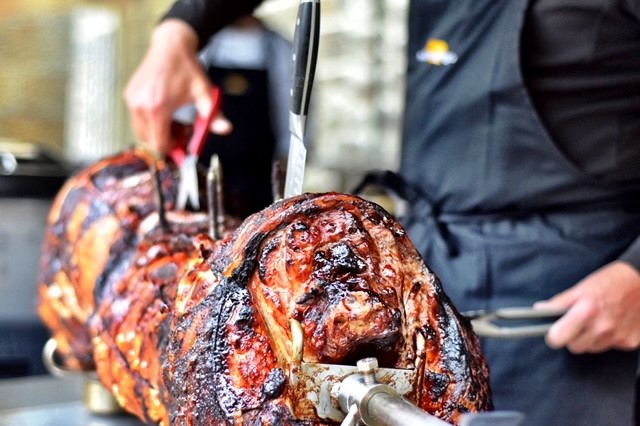 Speaking with our Hog Roast Oswaldtwistle catering managers, Sophie and Jordan, Lewis was able to book a stunning venue with one of our partner locations, and for the food, he asked us to serve our Hog Roast Dining menu, which offers a more formal hog roast experience, with delicious dishes served on real china crockery. With everything arranged, and Serena none the wiser to what was really going on, all there was left to do was wait for the special day.
Hog Roast Oswaldtwistle began the day as normal; by chopping veg, tossing salads and slow roasting the meat options of free-range pork and chicken, which resulted in a flavour-packed feast that suited everyone's palate.
As the guests started to arrive, they eagerly accepted platefuls of the yummy food from Sophie and Jordan before finding a place to sit. And once everyone was seated and happily munching away on the delicious food, Lewis grabbed his chance. After a romantic speech, he dropped to one knee, but before he could even get the words out, Serena was nodding her answer!