We've had some fab feedback from the sailing club who has recently hired one of our awesome Titan machines and it was great to hear how pleased they were with the results. They always run social events throughout the year for their staff and pupils to promote what they offer and attract new recruits and this year they decided a hog roast was the way to go. Peter, the owner of the school, wanted to push the boat out (no pun intended!) when it came to the food this time and having had a hog roast himself in the past, he was confident that this would be the ideal catering option. He had decided he would take care of the catering himself this year though and he realised he needed some expert advice!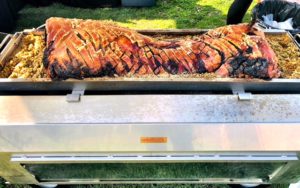 After one of our friendly team members talked him through his options, they both agreed that the Titan was the ideal piece of kit for his event. As well as being incredibly robust and straightforward to use, it has the capacity to cook a humungous amount of meat in one go, so he definitely wouldn't  have to be stingy with the portions! Plus, it is versatile enough to used in any location, which meant Pete would have no problem cooking with the Titan at his sailing school headquarters. He didn't even need to worry about setting it up, because our delivery team took care of all that for him and gave him a few handy hints along the way!
When we went to collect it the day after the event, Pete and his staff were full of nothing but praise for the Titan machine. They said it helped them to have one of their most successful social events to date and the quality and succulence of the meat it produced was second to none! Even as a beginner, Pete was able to wow his fellow sailors with the quality of the food, without having to slave over a hot stove all night. After having such a good experience with the Titan, he told us he will definitely be hiring one again for future events at his sailing school!