Here at Hog Roast Accrington we are buzzing, we'd been asked to cater again for around 190 guests at a Christmas Party and of course we had to go "all out" to make the food delicious, our guests happy, and the atmosphere relaxing.
The client wanted a big menu including all of our favourite foods and Christmas specials for his great Christmas party which was a huge success. Our chefs were excited to prepare a large order and also to amaze the client with the crème de la crème food. Our chefs arrived hours before the event and started to get on with the task at hand and also to discuss what ideas the client had and how he wanted everything to be arranged so that his party is one to never forget.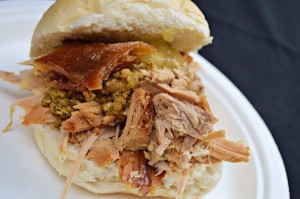 The party started in the evening at around 5:00pm and as soon as the guests started to flood in, we could feel their mouths water and stomach rumbling! The guests were pleased to know that Hog Roast was catering for the party and they told us about all the amazing experiences they had had previously. We got the party started by showing the Hog Roast which totally pulled in guests telling us that they "Cannot wait to eat that!"
We started serving our finger-licking food at around 6:30pm and by 8:00pm after all the compliments had been drained, all the food was gone! Hog Roast Accrington was proud at all the flattering remarks received by over a hundred guests such as how exquisite the food was, along with the best service around and this is exactly why we stand out from all other caterers you've ever heard of.
"That food, service and party was one of a kind. Unforgettable!"
Hog Roast Accrington can make your Christmas dreams come true with the immense selection of menus to choose from which will leave your mouth waterfalls flooding all the way to next Christmas. Don't you worry, we cater for any budget, venue and dietary requirements so you will never miss out on us. (Lucky you!)