Spitting Pig North West recently catered a big party at a lovely venue in Wigan's Standish – the Macdonald Kilhey Court Hotel. The main country manor house and the newer buildings are all surrounded by acres of gardens, and it's a peaceful area that is surprisingly close to both the M6 and M61. 90 guests for this party were invited to the hotel to enjoy our scrumptious pigs in buns, and we also provided veggie skewers and three accompanying salads.
Hog Roast North West has plenty of options for those guests who can't or don't want to eat the hog roast, and in this case, the veggie skewers were a great choice for vegetarian guests and would have been suitable for any vegans, too. You'd be pretty surprised at the number of menus we have available for our customers, but they are certainly not exhaustive, and we actually prefer that you mix and match items or even create your own bespoke menu in order to have the exact food that you want at your event or party. We know that variety is key and we love to ensure that every guest can enjoy our food, from vegetarian to vegan or gluten-free. If any of your guests have any other kind of dietary need, just let us know in advance and we will do our utmost to cater for them, too. If you need several courses provided, a fish dish, some stuffed mushrooms or gluten-free bread rolls, we can do all this and much more.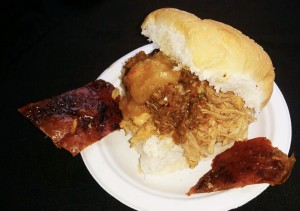 On this damp evening, Hog Roast North West had come prepared with a gazebo to protect the delicious, fresh food for this outdoors party. The rain didn't stop the guests coming out for some yummy hog roast rolls, however, and after 8.30pm, they queued up for some mouth-watering slivers of meat stuffed into fresh, floury bread rolls, together with salty crackling cut straight off the hog and our homemade duo of sage and onion stuffing and tangy apple sauce. The tomato and mozzarella salad, fresh green salad, and homemade coleslaw all went down a treat, too and the vegetable skewers were a hit with the veggies.
There were huge servings available for everyone, and we had lots of compliments from the happy guests, which is all we need to know we've done a great job.