At the weekend we catered for a wedding reception with a fine array of roast meats in the impressive Uppermill Civic Hall. Faced with a number of different roast meat options, the bride and groom chose roast lamb and spit roast chickens for their Hog Roast Uppermill catered wedding reception meal. Over one hundred guests feasted on the perfectly roasted meats accompanied by seasonal vegetables- mange tout, broccoli and carrots with garlic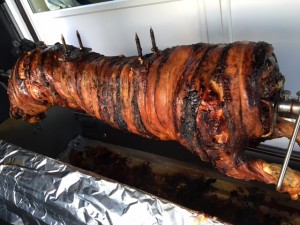 roasted new potatoes. The guests were highly complimentary about our gravy which of course we make with the meat juices. The evening wedding guests arrived to the splendid aromas of slow roasted hog, which we served in the traditional way with bread rolls, hot stuffing and apple sauce, or with mustard for the more adventurous taste buds. As usual our specialty crackling was in great demand.
Hog Roast Uppermill left the celebrating wedding guests in a flurry of snow as Aiden and Connor from our team headed back to the hog roast North West headquarters.