Well over 1000kg of spit roast pig was cooked by Spitting Pig and ate in August. Like any month with that much pig being cooked and consumed there's a lot of tales along the way that we could recount. On Saturday the hog roast in Burnley job I had was to make a Spitting Pig lavish hog roast Burnley feast with a drinks and canapes reception for a wedding. The event was booked for 120 people but only 99 guests managed to make it.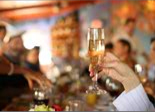 The champagne reception and canapes were supposed to be served in the garden but with bad weather in the way of rain and a distinct lack of marquees and overhead protection we had to take the hog roast Burnleycelebratory party indoors to the establishment kitchen. Despite this setback and a handful of guests no-showing we made a hog roast Burnley feast and served canapes and champagne that more than made up for it. Unlike the weather the guests were glowing, because of the Spitting Pig service.
In fact it turned out to be quite a weekend of work-arounds as not only were we rained out of the outdoor venue on Saturday, come Sunday when we were delivering a machine to a buyer we couldn't get it through the front door and it wouldn't go through the back gate either. It ended up with a team of people carefully lifting the machine over the nextdoor neighbours back wall, that was the only way the machine was getting through as the clients house wall was just too small.
We're hoping for some better luck this weekend because for Saturday we have a BBQ booked. It's getting late in the year for a BBQ and we haven't had good weather even at the best of times so it's fingers crossed for everyone, we're all hoping, Spitting Pig and the client and his guests, that the weather comes good so we can cook a proper BBQ hog roast.
The day after, this coming Sunday, so far it's quiet unless we get a freak last minute booking. I think we're going to use our time out to give some machines and equipment a thorough going over, as there's not much else to do.
Given we're going to be quiet it would be nice to hear from any readers out there. What appeals to you about a Spitting Pig hog roast and if you haven't booked already what's the wait? Any comments are welcome